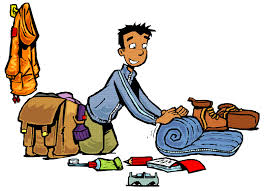 It's crunch time, your flight for your vacation leaves tomorrow, and all you can think about is checking in to your flight, packing your favorite outfits, and wondering how late you can arrive to the airport to catch your flight. But, did you remember to pack your toothbrush?! Majority of the time the toothbrush and other oral care items are the most forgotten items while traveling. Some places, it is easy to pick up important oral care items, while on more remote vacations it's a struggle. In this blog post, I hope to inform you on travel tips to help stay on track with your oral care on vacation!
Invest in a Travel Toothbrush & Kit

If you plan on using your regular toothbrush and toothpaste while traveling, you will probably forget to pack them on traveling day. By having a toothbrush kit specific for travel, you will be more likely to pack it. I like to pack my toothbrush kit first so I know my mouth will remain healthy during my vacation.
In your toothbrush kit include a toothbrush, toothpaste, floss and mouthwash.

Purchasing Toothbrush Containers

It is important to look for a ventilated toothbrush container. A toothbrush holder with ventilation will reduce the growth of bacteria on the bristles of your toothbrush. Also, when you arrive to your destination, keep your toothbrush outside of the container to allow for ample drying time. Of course, if you are staying in a location where there is not a clean location to place your toothbrush, keep the ventilated cap on it.
Never store your toothbrush in a bag or wrapped in any material. This will not allow the bristles to dry and create an environment for bacteria to grow.

Keeping Fresh Breath on the Plane

Sometimes, we fall asleep on the plane and when we wake up… YIKES "

Dragon Breath

"! To keep your breath fresh upon arrival, I recommend chewing gum with Xylitol. Xylitol helps neutralize acids in the mouth to minimize the growth of cavity causing bacteria. Also, this type of gum increases your salivary flow, which helps to keep your mouth cleaner and fresher.

Forgotten Toothbrush… What to do?

If you forgot your toothbrush, rinse your mouth with water, and then use a moist hand towel to gently wipe away the soft plaque on top of your teeth.
I hope these simple tips will help you stick with a healthy oral health regimen during your vacation. Of course, if you suspect that you have a dental issue, it is very important to receive treatment prior to your vacation. You can always call my office at (954) 747-8056 to schedule your pre-vacation dental appointment.